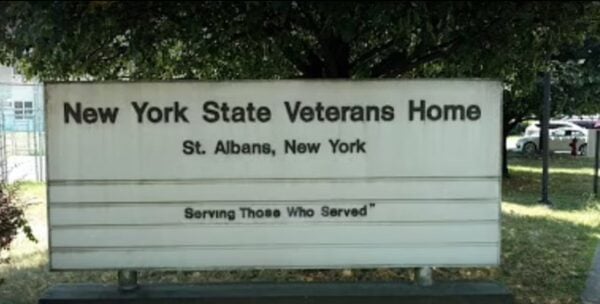 Federal Lawsuit: NY State Veterans Home Where 100 Vulnerable Hero Veterans Died From COVID. Former New York Governor Andrew Cuomo's policies killed at least 11,000 seniors during the COIVD pandemic. New York COVID deaths from nursing homes were 49% greater than previously reported.
In July 2021, the Biden Department of Justice dropped their investigation into Cuomo and several Democrat governors who sent infected COVID patients into nursing homes.
Now, the families of the more than 100 vulnerable hero veterans who died at the New York State Veterans' Home in Queens are suing the state-run facility for negligence.
The New York Post reports that the suit was filed on Nov. 4 in federal court and alleges the State Veterans' Home did not follow COVID protocols and violated residents' Fourteenth Amendment right "to conditions of reasonable care and safety" by failing to "implement basic infection control protocols and provide adequate medical care to the State Veterans' Home's residents."
The lawsuit claims 'at least 350' veterans and staff who lived at the facility were infected and critically-ill veterans were not given proper treatment or taken to hospital despite their condition.
Christian Precious Metals Company Embraces Integrity to Protect Americans' Retirement
Further, the lawsuit claims families of the veterans were not even made aware that their relatives contracted the virus until after they died.
The class action suit names two veteran residents of the home who died because of 'complications from COVID', Robert A. Loria and James Hutcherson.
The suit is brought by the families of Loria and Huterson and on behalf of other residents of the home who also caught COVID and 'experienced conscious pain, suffering, injury, and death'.
The suit states: 'Robert A. Loria's family was never informed that he was ill or that he even tested positive for COVID-19. Plaintiff, Louise Loria Hanel, only received a phone call to inform her he had passed away.'

The second named plaintiff is Yvonne Maria Parson, who is the daughter of veteran James Hutcherson, 93, who died at the home on April 8, 2020.
'In the days leading up to his death, Mr. Hutcherson was noted to be refusing meals and fluids. However, his medical chart is devoid of documentation to support that the the physician was advised of his increased risk for dehydration,' the lawsuit alleges.

'While at NYS-VH, James Hutcherson was exposed to, and infected with, COVID-19. He was never transferred to a hospital. On April 8, 2020, James Hutcherson passed away at NYS-VH because of complications from COVID-19.'
This is not the first lawsuit filed as the result of New York's failure to protect vulnerable seniors during the COVID pandemic.
The Gateway Pundit reported that the husband of FOX News meteorologist Janice Dean, who lost both of his elderly parents to COVID while in a nursing home, filed a lawsuit alleging that former New York Governor Andrew Cuomo was driven out of greed and paid more attention to the book he was writing at the time than the vulnerable people who died on his watch.
Federal Lawsuit: NY State Veterans Home Where 100 Vulnerable Hero Veterans Died From COVID